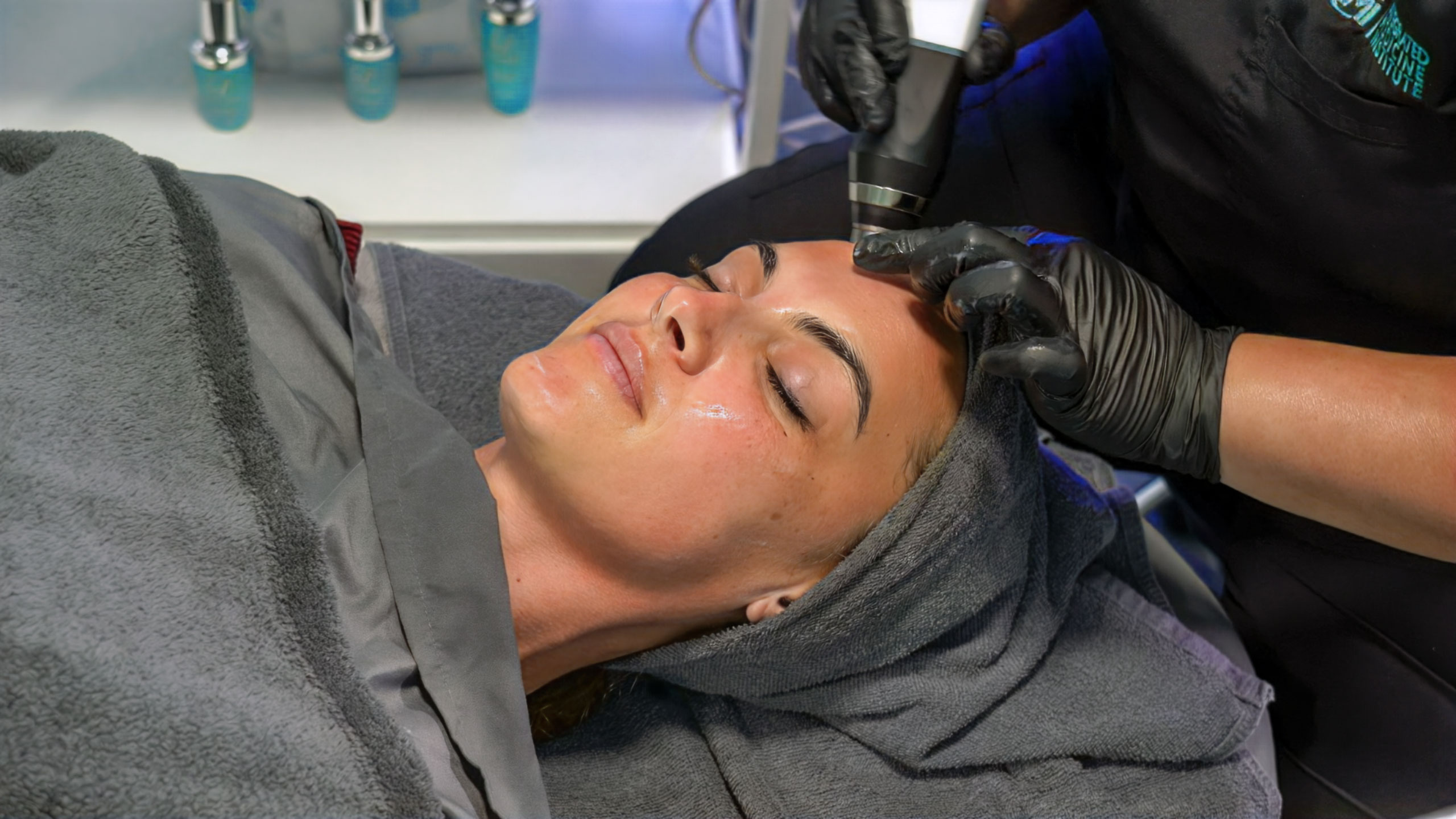 Facials
Rejuvenate your skin while you unwind with a medical-grade facial. IMI Clinics offers advanced, professional strength facial treatments to target skin problems such as wrinkles, age spots, acne, rosacea, dry skin and more. Medical facials are an ideal monthly treatment, great for both men and women of all ages. Facial services are performed by skilled, licensed skin care professionals who specialized in medical esthetics.
SkinCeuticals Facials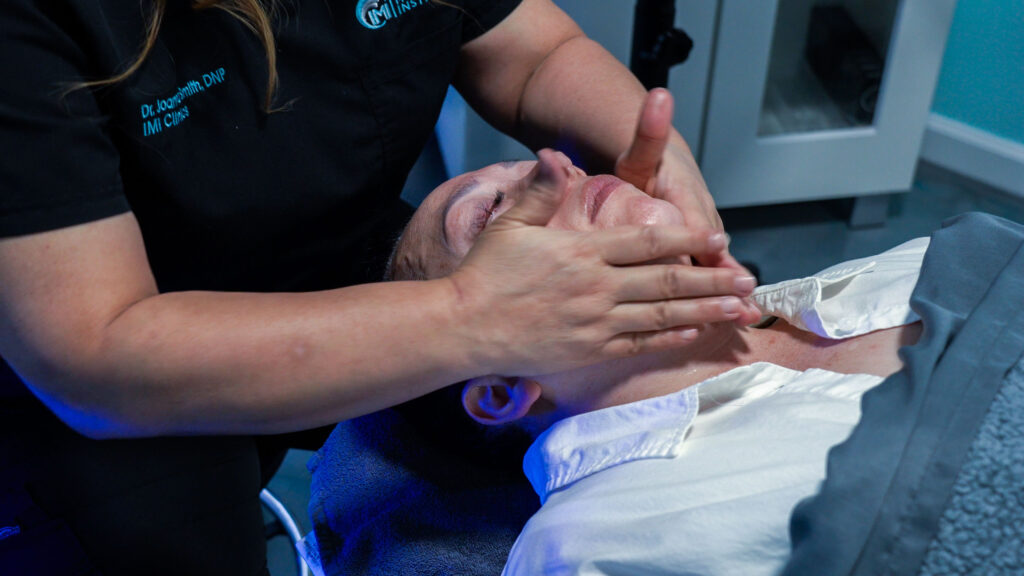 Manual facials at the IMI Clinics are performed using medical grade products also referred to as cosmeceuticals. SkinCeuticals is the #1 cosmeceutical skin care line in the Nation. To be categorized as a cosmeceutical, products undergo rigid testing and MUST perform as advertised. All SkinCeuticals products are backed by science and supported by third party research. At IMI Clinics we use the best because you deserve the best. Types of SkinCeuticals facials offered include acne, anti-aging, brightening, hydrating, or pore refining.
PRICE:
Acne: $
Anti-Aging: $
Brightening: $
Hydrating: $
Pore Refining: $
Dermaplane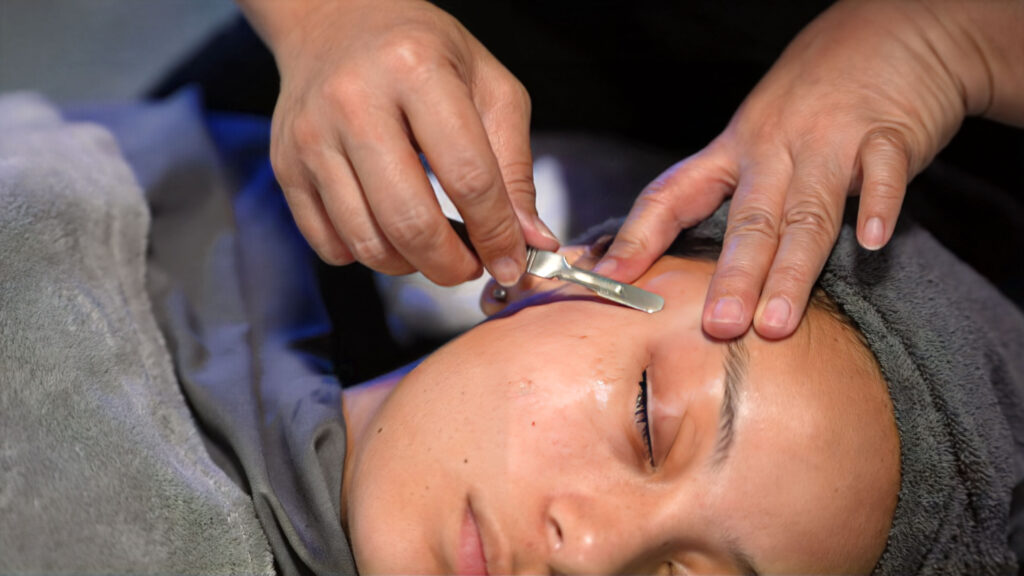 Dermaplaning is performed with a surgical blade that moves across the skin surface gently exfoliating the surface to rid the face of dead skin cells along with vellus facial hair also known as "peach fuzz" without injuring the skin. Dermaplaning is an effective way to resurface the skin with little to no downtime. The skin is left clean, glowing, and as smooth as a baby's bottom. Many clients who have dermaplaning done say that their makeup "goes on like butter." Dermaplaning is done with your choice of any Skin Ceuticals facial. This procedure can be performed as a stand-alone treatment or as an add-on service paired with a device-based facial.
PRICE: $
Add-on Services:
High Frequency: $
High frequency utilizes a glass electrode filled with either argon or neon gas. The electrode emits low-level electricity causing the gas to release either violet light in the case of neon gas or orange light if neon is present. The ultraviolet light that is released with high frequency displaces oxygen to kill bacteria present on the skin which makes it a great treatment for cystic acne. This oxygen displacement also increases circulation which helps to treat under eye dark circles, fine lines, wrinkles, and pore enlargement.
Light therapy: $
LED light therapy is a non-invasive skin treatment where lights are placed directly over the skin to help treat a variety of issues like acne, sun damage, wounds, and anti-aging. Each of the light colors emit different wavelengths and frequencies thereby penetrating the skin at different depths to target specific skin challenges.
Pore Vacuum Suction: $
Pore suction devices are used to remove debris such as dead skin cells, blackheads, stubborn dirt, and oil from the pore. This add-on service is usually performed after the debris has been loosened by mechanical, enzymatic, or chemical exfoliation. Steam, hot towels, and absorptive masks can also help to loosen pore blockages to maximize the effectiveness of pore vacuum suctioning.
Ultrasonic spatula: $
The working-end of the ultrasonic spatula is a flat shaped smooth metal that when activated will produce ultrasonic sound waves that can vibrate at a speed of about 28,000 vibrations per second. to loosen up dead skin cell build up and debris. When using light pressure and placed on wet skin, the ultrasonic spatula jiggles debris out of the clogged pore. This device can also be used to enhance product infusion.
Manual Extractions: $
Manual facial extraction is a procedure used to unclog blocked pores. When pores become clogged with excess sebum and dead skin cells blackheads, pustules, and pimples can form. This collection of debris can be removed with manual extraction which involves using either cotton swabs or fingers wrapped in gauze to squeeze around the pore until the debris is expelled. A special metal tool called a pore extractor can also be used to clear pore debris. The loop is placed around the clogged pore, pressed against the skin, thus placing pressure around the pore and encouraging the extraction of anything that may be in the pore.
Masks: prices vary
Masks complement facials and can help to balance skin, reduce wrinkles, decrease dryness, combat acne, heal and calm skin affected by free radicals. The type of mask you select will largely depend on your skin type and skin goal.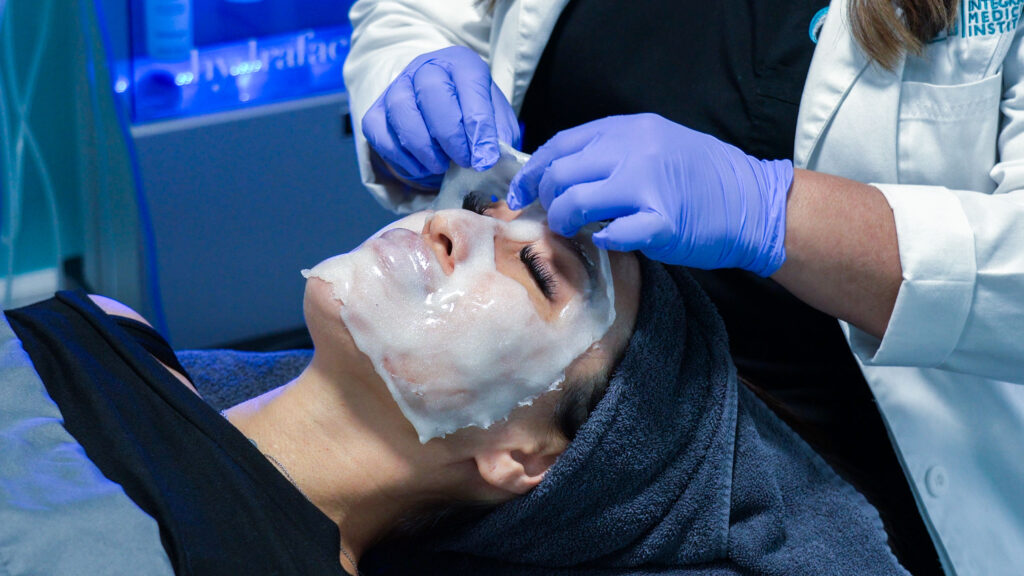 Hydrojelly Masks
At this time, IMI Clinics offers 13 of the most effective hydrojelly masks on the market today. The key ingredient in these masks are refined alginate which provides soothing, cooling, and hydrating effects while nourishing the skin with other key elements. Each mask serves a very particular purpose. Allow us to help you decide which mask is best for your specific skin condition or let us know which one is your favorite. If you like more than one, we can combine them based on your areas of need.
Gel masks are ideal for hydrating any type of skin type, including oily, combination, acne-prone, and dehydrated skin. The goal of a gel mask is to hydrate without adding oil.
Phyto Corrective Masque by Skin Ceuticals: $
Hydrating B5 Masque by Skin Ceuticals: $
Clay masks generally consist of one or more oil-absorbing clays that draw oil, dirt, and other impurities from pores. Clay masks are often referred to as detoxifying or purifying masks for this reason and are usually used on acne-prone and dull skin.
Clarifying Clay Mask by Skin Ceuticals: $
Sheet masks are hydrating ingredients soaked in thin cotton sheets that are placed on the skin. They are generally used for hydration purposes.
Biocellulose Masque by Skin Ceuticals: $
Enzyme & Vitamin masks are generally composed of highly concentrated active ingredients. Most botanical, vitamin, and enzyme masks are mixed at the time of service in order to activate the ingredients. Depending on the specific components of the mask, these masks are typically used to detoxify the skin, replace nutrients, brighten or lightly resurface skin.
Vitamin C Lightening & Brightening Masque: $
Serums & Growth Factors:
Face serums usually contain a higher concentration of active ingredients and are typically light weight to allow for better skin penetration. KNown for their effectiveness, face serums are often used to manage specific skin care concerns. When used in facials, growth factors take cues from the surrounding skin tissue in order to become those types of cells. When placed on the skin, growth factors help generate new healthy skin cells.
Peptide: $
Plant stem cell: $
Growth factor: $
Vita Shield: $
Biomodulated Stem Cell: Market Price
Hydrafacial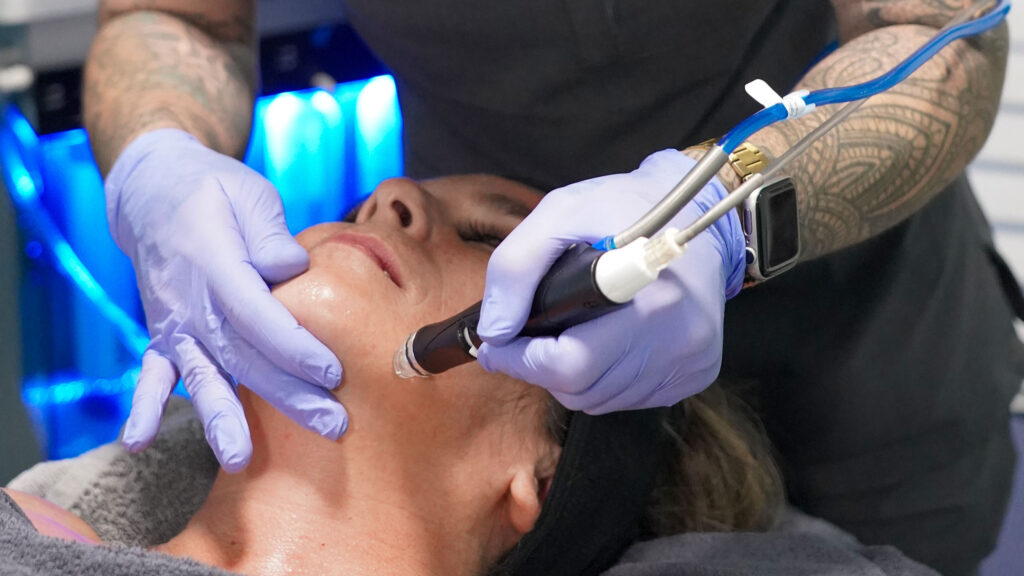 The HydraFacial MD is a non-invasive, multi-step treatment that provides immediate results and long-term benefits without pain, irritation or downtime. HydraFacial MD combines the benefits of hydradermabrasion exfoliation, light chemical peel, automated painless extractions, and infusion technology to optimize delivery of antioxidants, hyaluronic acid, and peptide-rich serums. One quick treatment that delivers real results. The HydraFacial MD is appropriate for all skin types and targets acne, sun damage, fine lines, wrinkles, dehydration and oily/congested skin
Basic HydraFacial: $

Medical Boosters

Dermal Repair: $
Zo Bright Alive: $
Zo Rozatrol: $
Alastin: $

Add-Ons

LED Light Therapy: $
Lymphatic Drainage: $
Dermaplane: $
Sente' Dermal Repair: $

Diminishes the appearance of wrinkles
Improves skin tone, texture, and firmness
Enhances hydration

Zo Bright Alive: $

Reduces the appearance of brown spots
Evens skin tone
Prevents new pigmentation formation

Zo Rozatrol: $

Helps relieve the signs of red sensitized skin
Replenishes hydration and supports a healthy skin barrier
Minimizes pores and helps with skin conditions like Rosacea

Alastin: $

Clears out damaged collagen and elastin
Supports new collagen and elastin production
Improves tone and texture for a more youthful complexion
Reduces the appearance of thinning skin, fine lines, and wrinkles
Eye Perk +$

Brightens, tones, and firms the outer eye
Improves skin hydration around the eye
Gently removes surface layer dead skin cells
Reduces dark circles and puffiness

Lip Perk +$

Lightly plumps lips
Hydrates
Exfoliates and smooths lips

LED Light Therapy + $
Lymphatic drainage + $
Partial scalp treatment: $
Partial series (3): $
Full scalp treatment: $
Full scalp series (3): $
Oxygeneo Micro Dermabrasion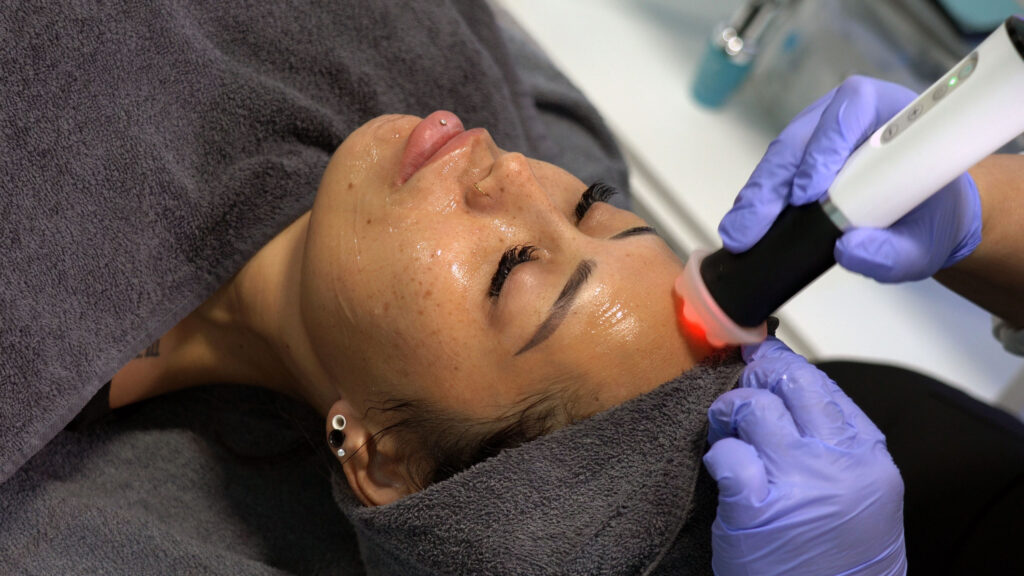 Oxygeneo is considered the "super-facial" because of the technology used in this system. The Oxygeneo facial has the ability to perform 3 treatments in 1 device. The service helps exfoliate, oxygenate, and infuse your skin in a single session. Dead skin cells are effectively removed from the surface with microdermabrasion mechanical exfoliation that uses specialized serums and a treatment pod rather than the microcrystals that are used in classic microdermabrasion methods. Technological advancements simultaneously hyperoxygenates the skin's surface to increase blood flow and stimulate cellular activity. With a simple change of the handpiece, the ultrasound drives selected nutrients and active ingredients deep into the skin to promote healthier and smoother tissue. Oxygeneo facials can be done as a monthly maintenance facial for lightening & brightening, to treat acne, and to fight premature aging.
PRICE:
Basic OxyGeneo: $

Additional Areas

Neck: $
Décolleté: $
Hands: $
---
Facial Testimonials