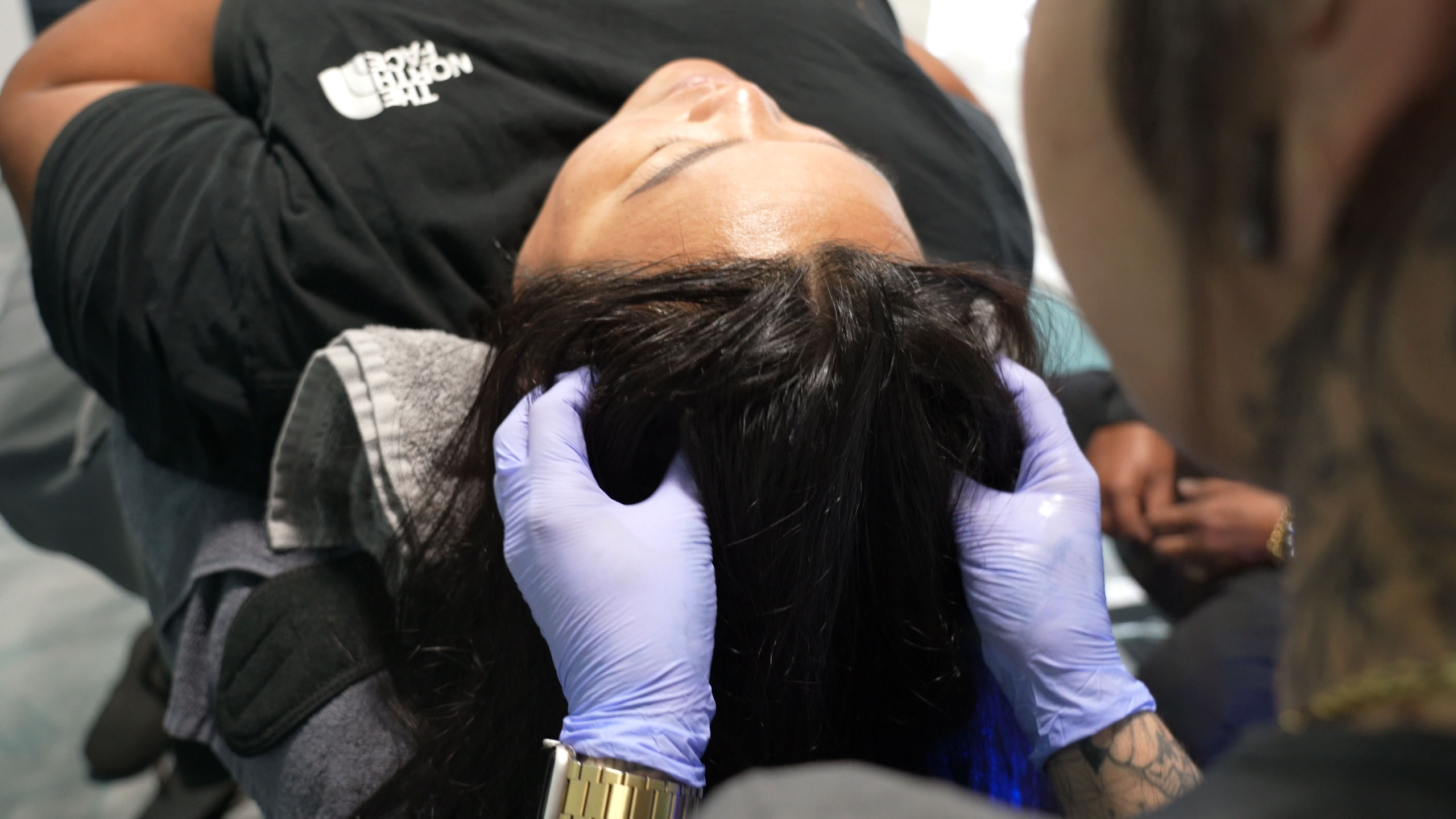 Hair Restoration
Male and female pattern baldness, also known as "Androgenic Alopecia", is the most common cause of hair loss. Men typically present with hairline recession at the temples and hair-loss on the upper surface of the head. Women typically present with diffuse, or scattered, thinning of the hair over the top of the scalp.
People who suffer from this type of hair-loss have an underlying sensitivity to "hair follicle miniaturization" or shrinking of the hair follicle due to the presence of androgenic hormones such as dihydrotestosterone (DHT). Certain types of hair located on the scalp can be susceptible to thinning if exposed to excess levels of DHT which shrinks the follicle causing it to prematurely shed. Then, instead of normal, healthy hair re-growing in its place, a thinner, finer hair replaces it. Hair miniaturization is typically due to three factors.
Genetic Predisposition
Presence of Dihydrotestosterone
Age
Other Causes of Hair Loss
Poor nutrition is a common cause of hair thinning. Complete baldness is not common in people with nutritional deficiencies. Deficiencies in biotin, amino-acids (protein), zinc, and iron can lead to hair loss in addition to consuming a diet high in animal fat.
Stress has been shown to restrict the blood supply to capillaries which prevents oxygen and nutrients from reaching the hair follicle which can prevent hair growth. This effect is similar to having poor circulation.
Some medications can cause hair loss, especially those that affect hormone levels. These medications include contraceptive pills, some forms of hormone replacement therapy, anabolic steroids, and acne medication. Other medications which can have an effect on hair loss include those for blood pressure problems, diabetes, heart disease, and cholesterol.
Low scalp hydration, clogged follicles, dead skin congestion, & poor circulation.
TREATMENT OPTIONS
---
Keravive Scalp Treatment by HydraFacial: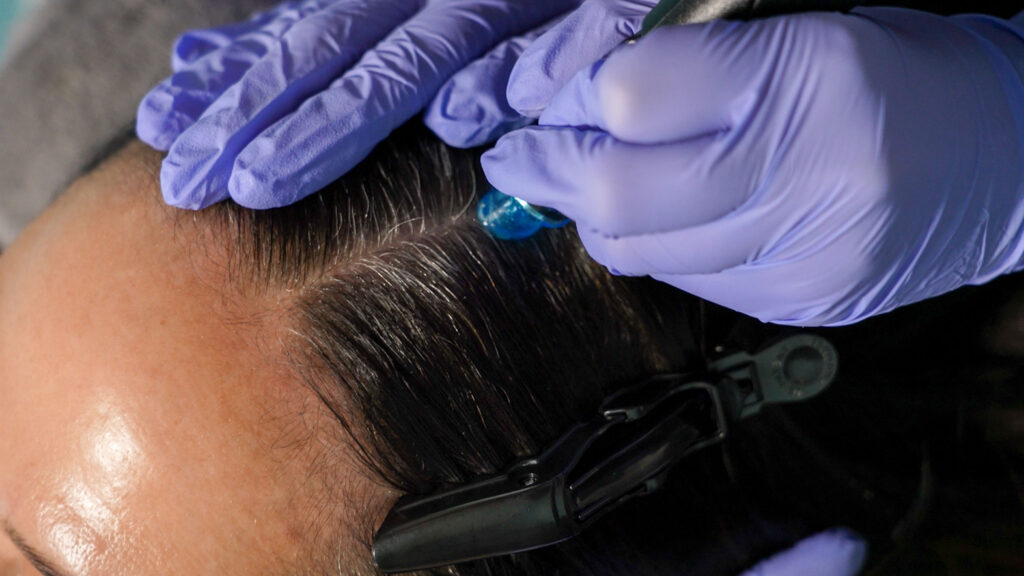 Keravive is a unique, relaxing treatment designed to cleanse, exfoliate, nourish, and hydrate the scalp for healthier and fuller looking hair for all skin and hair types. HydraFacial's proprietary Vortex Technology easily dislodges and removes impurities from the scalp and hair follicle. The Keravive Peptide Complex Solution delivers a hyper-concentrated blend of biomimetic growth factors and skin proteins that hydrate and nourish the scalp.
Partial Scalp Treatment: $
Partial Series (3): $$$
Full Scalp Treatment: $$
Full Scalp Series (3): $$$$
Microinfusion with Aqua Gold:
Hair Revitalizer Serum: $$
Hair Revitalizer Serum (3): $$$
Protein Rich Plasma: $$
Protein Rich Plasma (3): $$$$$
---
Protein Rich Plasma (PRP) Injections:
---
PRP therapy has been shown to be a promising treatment option to promote hair growth. Platelet rich plasma (PRP) is a concentrated blood sample that contains high levels of platelets, growth factors, and proteins which are all critical components of tissue growth and the healing process. Growth factors derived from platelets are directly responsible for stimulating tissue regeneration and repair. When used for the purposes of hair restoration, platelets can theoretically stimulate inactive or newly implanted hair follicles into an active growth phase.
PRP Specific Growth Factors that influence hair growth include:
Platelet-Derived Growth Factor (PDGF) which promotes blood vessel growth, cell replication, and skin formation
Transforming Growth-Factor-Beta (TGF-b) which promotes the growth of the matrix between cells and increases bone metabolism
Vascular Endothelial Growth Factor (VEGF) promotes blood vessel formation
Epidermal Growth Factor (EGF) promotes cell growth and cell differentiation to be able to produced specialized tissues such as blood vessels and collagen
Fibroblast Growth Factor-2 (FGF-2) also promotes growth of specialized cells to assist with the formation of microvascular structures
Insulin Like Growth Factor (IGF) which is a regulator of normal physiology in nearly every type of cell in the body
Present in platelets are many intracellular structures such as glycogen, lysosomes and alpha granules. These granules within the PRP contain clotting and growth factors that are eventually released during the healing and repair process. During hair restoration procedures the PRP is either injected directly into the scalp, infused using mesotherapy (i.e. microinfusion with a device like the Aqua Gold), or using a microneedling handpiece.
Single Service: $$$
Series (3): $$$$$
Follow up Treatments (1): $$$
---
Misc. Hair Restoration Interventions: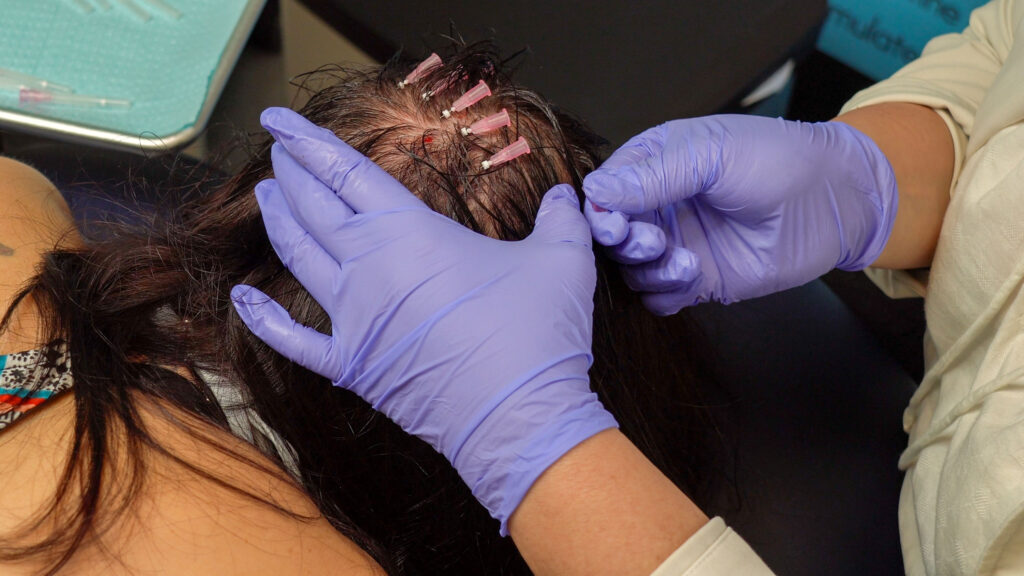 HDPDO Thread: $ – $$$
Genetic Testing Available: Call for Pricing
Hormone Balancing Available: Consultation Required
Oral Supplements & Nutraceutical Support Options:

NutraMetrix Pure Collagen: $
NutraMetrix OPC-3 Skin, hair, & nails formula: $
Nutrafol Hair Growth Serum: $
Nutrafol Stress Adaptogen (1): $
Nutrafol Stress Adaptogen (3): $
Nutrafol Hairbiotic: $
Nutrafol Men's (1): $
Nutrafol Men's (3): $
Nutrafol Women's (1): $
Nutrafol Women's (3): $
Nutrafol Women's Balance Formula (1): $
Nutrafol Women's Balance Formula (3): $
---
PRESCRIPTION SUPPORT OPTIONS:
Approved Treatments for Hair-Loss
There are currently two treatments approved by the FDA for the treatment of miniaturized hair-follicles caused by androgenic alopecia.
Finasteride (Propecia)- The American Hair Loss Association notes finasteride is a prescription oral treatment for male pattern baldness. It reportedly reduces the active levels of DHT in your body to prevent miniaturization of hair follicles. Women should not take oral finasteride due to its risks. In addition, many men who are prescribed Finasteride to be taken orally by tablet experience significant side effects which reduce life quality. These side effects include loss of libido, erectile dysfunction, hypogonadism, gynecomastia, and sexual dysfunction.
Minoxidil- An over the counter topical treatment that has been used since the 1990's to treat baldness in men and women. It reportedly promotes new hair growth by increasing cutaneous blood flow to shrinking hair follicles. It is generally safe and can be effective by itself if used during the early onset of alopecia.
Topical minoxidil fortified with finasteride has been shown to maintain hair density after replacing oral finasteride. Finasteride works by reducing dihydrotestosterone levels, thereby inhibiting miniaturization of hair follicles in patients with androgenetic alopecia (AGA). Oral finasteride is associated with side effects such as decreased libido, sexual dysfunction, and gynecomastia. Topical finasteride can be considered for hair density maintenance after initial improvement with oral finasteride, thereby obviating the indefinite use of oral finasteride. Topical finasteride may absorb less systemically than oral finasteride, thereby reducing the side effects associated with oral finasteride.
Hair Loss:
For mild to moderate hair loss -Minoxidil 5%/Azelaic Acid 12.5% 60ml: $
For noticeable hair loss – Minoxidil 5%/Ketoconazole 2%/Azelaic Acid/12.5%/Finasteride 0.1% 60ml: $
Prevention and Restoration:
Latanoprost Topical Foam 30ml: $
Finasteride/Latanoprost Topical Foam 30ml: $
Oral Biotin/Finasteride combo (5mg/1mg): $