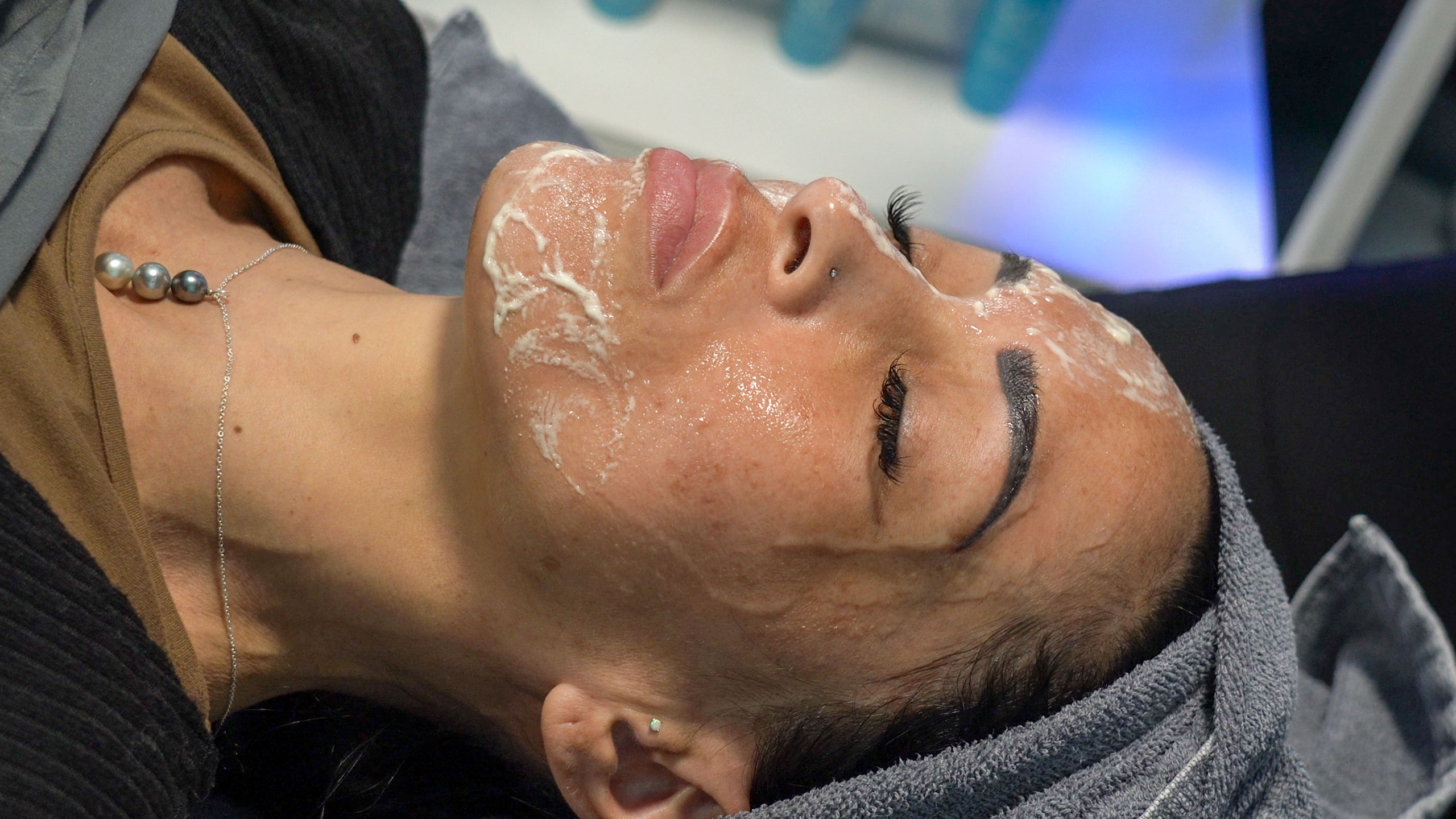 Chemical Peels
Chemical peels are used to accelerate the process of skin shedding by either breaking through the skin cell wall causing cellular death or by destroying the bonds which hold individual cells together. In general, chemical exfoliation of dead skin cells helps to reveal softer, healthier skin. At IMI Clinics we offer a variety of peels to treat a wide array of skin conditions.
glyMed Peel
5 Berry: $
The 5-Berry pigment control peel combines 7% TCA with the rejuvenating, protective, and anti-aging benefits of 5 natural berries including cranberry, raspberry, blueberry, blackberry, and bearberry. Berries are packed with vitamin A making this peel a good anti-ager as well. This peel is "color-blind" making it safe for all skin types and is recommended for normal, combination, pigmented, oily, and aging skin.
Chocolate: $
The chocolate peel has 50% lactic acid, natural extracts of cocoa, resveratrol, and acai berry. The combination of these ingredients delivers superior refining, anti-aging, and skin restorative benefits. This unique formulation influences collagen and glycosaminoglycan production thereby improving skin hydration, elasticity, and tone. This peel treats fine lines, wrinkles, dark spots, and acne. The resveratrol and acai berry components of this peel will help to lift & firm skin while improving skin texture & minimizing the appearance of enlarged pores. Recommended for normal, combination, dry, and oily skin.
Jessner's: $
Professional Jessner's solutions produce aggressive yet predictable epithelial desquamation or superficial skin shedding. Jessner's solutions contain a combination of resorcinol, salicylic acid, and lactic acid to exfoliate, oxygenate, and detoxify skin while helping to catalyze cellular metabolic functions.
TCA (buffered): $
Trichloracetic acid (TCA) is a non-toxic chemical that is applied to the skin that causes the top layers of cells to dry up and peel off over a period of several days. TCA peels offer dramatic results and effectively treats fine lines, wrinkles, discoloration, and acne scars. When the old skin is peeled off, it exposes a new layer of undamaged skin, which has a smoother texture and more even color. TCA peels are a good option if you have melasma which is typically one of the most difficult skin conditions to treat effectively.
Vitamin A: $
Vitamin A peels are used to improve skin health and to restore a healthy glow. Like retinol, vitamin A is a potent anti-ager. This peel stimulates skin renewal and builds collagen reserves. Vitamin A peels are also an effective acne treatment, decongests blocked pores, decreases hyperpigmentation, and reduces outbreaks of keratosis pilaris.
Advanced Corrective: $
VI Peel
The family of VI Peels have been designed to minimize enlarged pores, improve uneven skin texture & tone, fine lines, wrinkles, acne scarring, and hyperpigmentation caused by sun damage, age, and hormonal imbalance. These peels are safe for use on any skin type and can be used on the hands, neck, chest, back, and face. This superior peel product uses a unique combination of ingredients that are optimal for skin renewal:
Trichloroacetic acid (TCA) – smooth's scars & stimulates collagen growth
Retin-A – softens fine lines and moderate wrinkles
Salicylic acid – exfoliates the tissue and acts as an anti-inflammatory agent
Phenol – treats deep lines and creases
Vitamin C – an antioxidant used to brighten the skin
VI Peel Pricing:
VI Purify Peel treats acne: $
VI Precision Plus Peel treats texture and discoloration: $
VI Purify Precision Plus Peel treats acne, acne scars, and post-inflammatory hyperpigmentation often associated with acne: $
Perfect Derma Peel
The Perfect Derma Peel is the only peel that includes the powerful antioxidant glutathione, which lightens and brightens the skin, slows down the aging process and helps prevent wrinkles.
The Perfect Derma Plus Booster: $
This peel contains glutathione, TCA, retinoic acid, salicylic acid, phenol and vitamin C. This is an excellent peel for patients with oily and mildly resilient skin. The Perfect Derma Plus Booster can also be an effective treatment for mild to moderate hyperpigmentation, acne scars, actinic keratosis and sun damage on the face and body.
The Perfect Derma Clear Acne Booster : $
The Perfect Derma Clear booster for acne contains benzoyl peroxide, glutathione, TCA, retinoic acid, salicylic acid, phenol, hydrocortisone and vitamin C. This peel is an excellent treatment for patients with moderate to severe acne or acne scars on the face, chest, back or any body area.
The Perfect Derma Plus Plus Booster : $
The Perfect Derma Plus Plus Booster contains 1% hydrocortisone, 4% hydroquinone, glutathione, TCA, retinoic acid, salicylic acid, phenol and vitamin C. The Perfect Derma Plus Plus Booster is great for patients with oily, thick and resilient skin. This peel is highly effective for stubborn hyperpigmentation, acne scars, actinic keratosis and sun damage on the face and body.
Reve Enlighten Peel
Reve Peel is a true medium depth peel with the highest concentration of acids possible that powerfully penetrates into the dermis stimulating collagen and elastin reproduction to deliver significantly superior results. The essential oil delivery system is intended to reduce irritation and risk of complications thereby creating a peeling process which is safe for all skin tones and types. This peel is best used for those with stubborn discoloration.
Single treatment: $
Single w/ booster: $
Customized stacked peels available through clinic membership or upon special request