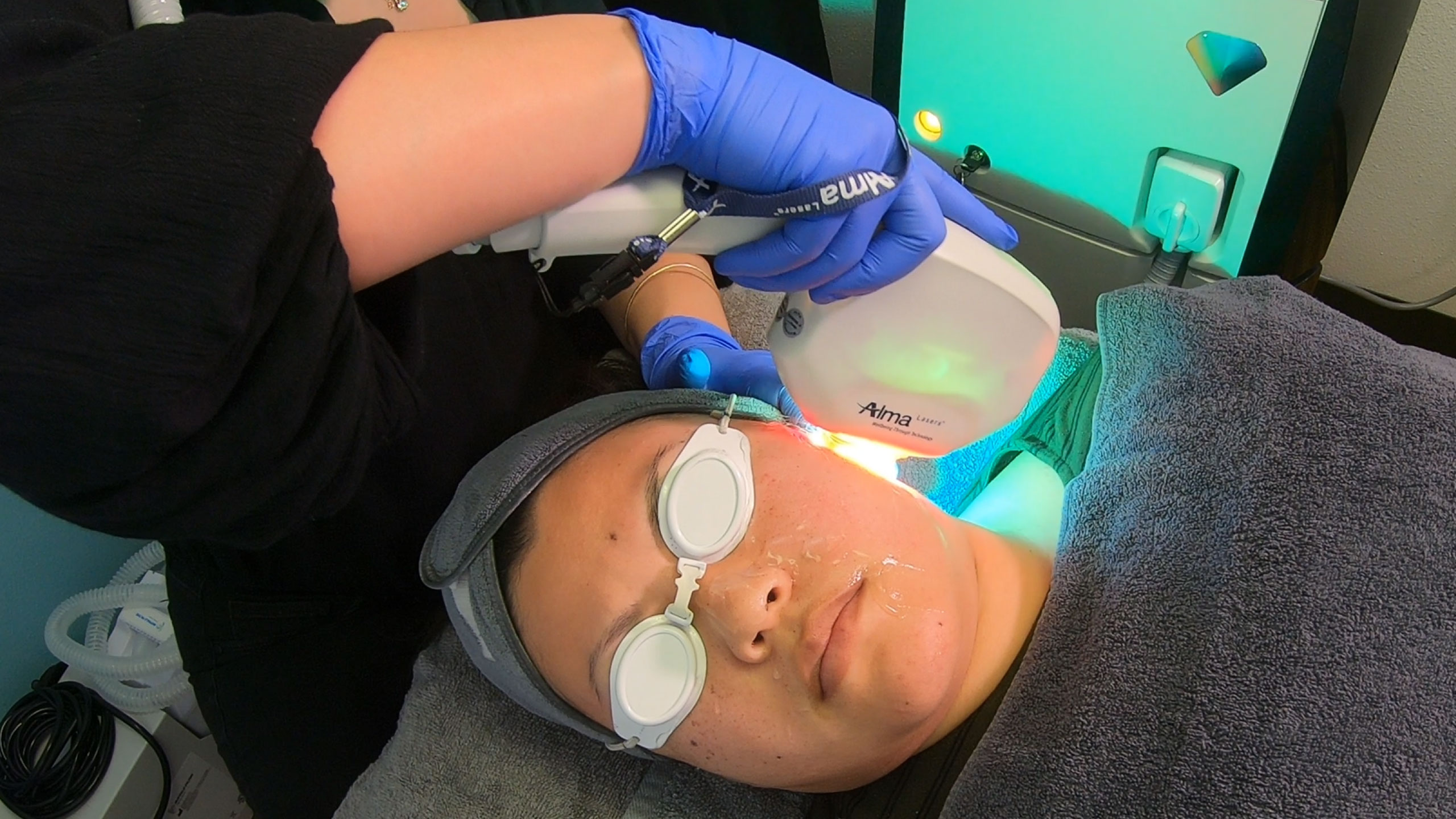 Intense Pulse Light (IPL)
IPL (Intense Pulsed Light) which is often referred to as photofacial, is a treatment that has been around for over 10 years and still remains one of the most popular treatments and hottest skincare trend! IPL is used to treat a variety of skin conditions including acne scars, age spots, sun damage, facial redness and large pores. Benefits include smoothing uneven skin texture and eliminating wrinkles by stimulating collagen growth. This procedure can be done on all parts of the body.
---
Device Info
Combines pulsed dye laser with intense pulse light
Dye VL is ideal for vascular and pigmented (discoloration) leisure
IPL effectively treats fine lines, wrinkles, and skin laxity
Treatment Information
With 1 to 4 treatments expect:

50-75% improvement with vascular lesion
70% reduction in brown spots

With 6-8 treatments:

75% improvement in mild to moderate acne scars
60-80% reduction in fine lines, wrinkles, and laxity
Patient Information
Consults are recommended
Client may need a topical pre-treatment regimen
Treatments take about 30-40 minutes
No numbing required with internal cooling device
Not typically covered by insurance
No medications like doxycycline 4 weeks before treatment
No tanning 4 weeks prior to treatment
No waxing or chemical peels 2 weeks prior to treatment
No Aspirin, Ibuprofen, fish oil, or Gingko Biloba week of treatment
No alcohol 24 to 48 hours prior
Policy
Bundled purchases are prepaid and nonrefundable.
Missed appointments will result in forfeiture of the treatment.
Cancellations with less than 24 hours notice will result in forfeiture of the scheduled treatment.
---
Photofacial (IPL) Pricing:
IMI Clinics laser pricing is based on the size of the area being treated. Sizing and pricing is described as follows:
Extra Small = Chin, lip, sideburns, fingers, & toes
Small = Cheeks, hands, bikini line, & feet
Medium = Full-face, Brazilian, underarms, shoulders, half arms (top or bottom) butt cheeks, & lower legs
Large = Full arms, chest, abdominals, upper back, lower back, or thigh
Extra Large = Full legs, full, back, or full chest w/ abdominals
Photofacial (IPL) Single Sessions:
Extra Small: $
Small: $
Medium: $
Large: $
Extra Large: $$
Photofacial (IPL) Bundle (6 Treatments):
Regular Extra Small: $$
Regular Small: $$$
Regular Medium: $$$$
Regular Large: $$$$$
Regular Extra Large: $$$$$
Cash Discount Photofacial (IPL) Bundle (6 Treatments):
Cash Discount Extra Small: $
Cash Discount Small: $$
Cash Discount Medium: $$$
Cash Discount Large: $$$$
Cash Discount Extra Large: $$$$$